All sun, no wind, makes Hans a lazy boy ...
Hans W3
05/25/2010, 95 NM ENE of Barranquilla (Co)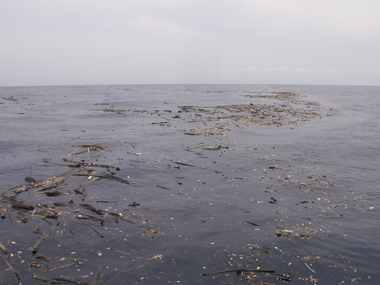 A belt of treetrunks, weed, cane, and some human waste meanders just off the Colombian Caribbean coast

What a terrible sailing weather along the Colombian coast. During the night I spotted many thunder flashes behind the clouds on the horizon. But no rain was visual on the radar. We run it through the night in order to spot small (fisher)boats etc. that don't show up on radar. Around 05h00 I wake up Ulric because an object is spotted and stays at more or less the same angle as seen form QRIII: eventually we would collide with it if nothing changes. So we took the initiative to change our bearing. We gybed in the dark to a more southerly course, which brought us also back on track to Cartagena. Shortly after gybing it started to rain. Because of the thunderclouds, not knowing if they would approach us, I had closed the sprayhood already. We quickly closed the hatches and let a refreshing rainshower cool us down a bit.

It is now 10AM. The wind dropped again to 10 - 12 knots. When Ulric wakes up I will propose to hoist the spi once more. Training our spi-flying-skills with slightly more wind as yesterday. And boosting Queenie's pace by 1 knot or more to arrive in time in Cartagena. Rainshowers pass by behind her stern while I am writing. They miss us. Maybe good, maybe bad, some more refreshment is welcome, but who knows what else such as bad winds etc. is hiding in those clouds.

Again some hours later. Due to a decreasing wind that has veered to the south-west we had to take the boom off of the genoa and move the sail from windward to lee. An adjustment of 15 - 20 degrees in course was necessary to head for our next waypoin, close to Cartagena. There will not be spi-flying today, both windangle and windspeed are not adequate. To reach Cartagena before tomorrow (26 May) afternoon we have started the engine to maintain sufficient speed. The wind has dropped to unnoticeble strength ... Around lunchtime, today's lunch was a filled omelette with bread and red Foo Yong Hai sauce, we have read some about Cartagena: there should be a modern subadive center. Maybe we can do our planned scuba dive that we hadn't had time for in Aruba!

Still no wind in the afternoon. It is hot and the sound of our engine makes me lazy. Until we arrive in a coastal region where apparently a river is ending in the sea closeby: all sort of plants, treetrunks, and a little bit of garbage such as plastic bottles and old shoes, heap up in 20 meter wide belts, that are, as far as we can see, stretching from horizon to horizon: miles in length. It is a play of current and wind that makes the floating material heap up at specific places and in specific shapes, apparently this time as belts. Without wind the material is not spread out over the sea but sticks together. We pass three, four of such belts and then enter again a region which is predominantly free of floating material.

A quick glance at the ship's board clock tells me that it is 20h10 UTC, or 16h10 local time. I have to do the logbook entry. I routinely write down the data we standardly log, time, course ordered, log reading (distance through water travelled), course steered, wind direction and speed, sea, weather, and visibility conditions, barometric pressure, and longitude/latitude positional coordinates plus source of fix ("SN" satellite navigation also known as GPS). I notice that the wind is increasing again in strength, we are already at 7 - 8 knots, 3 Bft. Maybe tonight we will be able to sail some again.