Post script
Ulric
06/03/2010, London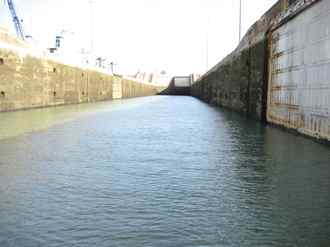 Gatun Locks, Panama

We have crossed the Caribbean Sea! Queen's Ransom is no longer in the West Indies, but in Panama, Central America. She has visited South America; quite far away from her English Channel and North Sea stomping ground, not to mention her past two journeys to Norway.

Hans, Sven and I spent eight days at sea divided into three legs: Sint Maarten to Aruba, then Cartagena and finally to Panama. We had very good following winds on the first leg. The other two involved a mix of sailing and motoring to keep up with our tight time schedule. We covered a distance of 1285.3 nautical miles. Ashore, we spent 24 hours on Aruba and 48 hours at Cartagena.

The sailing highlights were that we felt more comfortable sailing with the spinnaker and the exhilirating downwind sailing of the first leg. Among places visited Cartagena stood out as the winner. Quite unusual for us to visit a major city as a sailing destination. Aruba, also called "One Happy Island" (with an interesting twist to emphasise community), was as commercialised as we had expected; you could have been in the US. Panama is a curious mix of rainforest and pristine cays and coves, which we mainly saw at a distance, with the roughness of South American frontier towns.

It took some time to settle into the sea routine. We ran our daily watch schedule and other routines, but in a less regimented fashion than across the Atlantic. The heat was a continous factor of discomfort. We ate extremely well and enjoyed our aft deck pre-dinner drinks and forays ashore. We got little sleep regardless of being at sea or onshore.

The stress of getting everything ready for departing and shutting down the boat again is legendary. I only got less than three hours sleep the last night. The departures are certainly better prepared than in the past and can certainly be done quicker, but less stressful? No!

As always, we had our share of equipment failures; in particular electricity charging and the gennaker. The generator refused to start before we even left the dock at Sint Maarten. Bad repairs was most likely the cause of the problem with the screw controlling its speed being sheared off and at the same time causing a fuel leak. During service, the fuel filter had been put back in a slightly incorrect position causing the screw being caught by a fuel hose. The other problem was a wire that got caught up by a belt stopping the main engine to charge the batteries. However, an absolut highlight was our self suffiency to repair these two problems at sea.

The gennaker was ripped for possible no other reason than old age, but it had just been returned from the local sailmaker at St Lucia. A few other things on the technical front continue to nag such as the cockpit VHF failure. The only scary moment was that Sven got burned with some boiling water while making coffee. It was the first time that the huge medical chest, "the Sea Medic" was put into use.

Captain Hastings and his crew are now settling into their adopted home country for the next six and a half months; Panama. Shelter Bay Marina is a nice place; small scale, well fitted out and at an excellent spot in the remote rainforest. I am sure Captain Hastings will relish its closeness to a major shipping lane and other sea folks.