Casted off...
Ulric ENE5
11/29/2009, 5 nautical miles off Teneriffe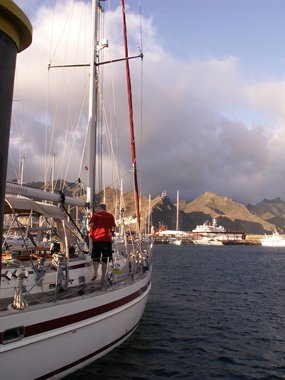 Ulric on QRIII in the port of Sta. Cruz de Tenerife (Hans)
We set out at 19.48 hours tonight. Finally we were on our way after loads of preparations and decades of dreaming! Raul and Jose, the electricians, had just left the boat a few hours earlier. They have really been very dedicated and competent. Last minute frights included the water maker shutting itself off when Peter and I tried it offshore earlier in the day. We were still a bit unsure about the electricity charging working correctly, but a phone call to Raul calmed my worries. Not even filling diesel was straightforward as we were told no credit card machines were working in the whole of Spain. Peter succeeded at the third attempt to get cash on his taxi trip around town.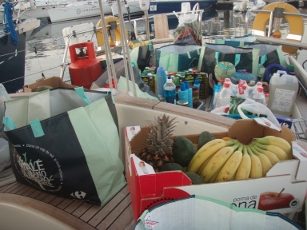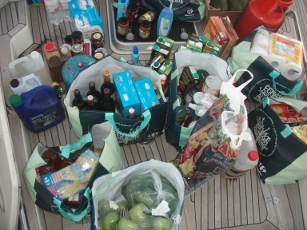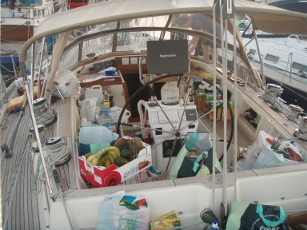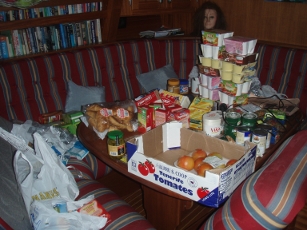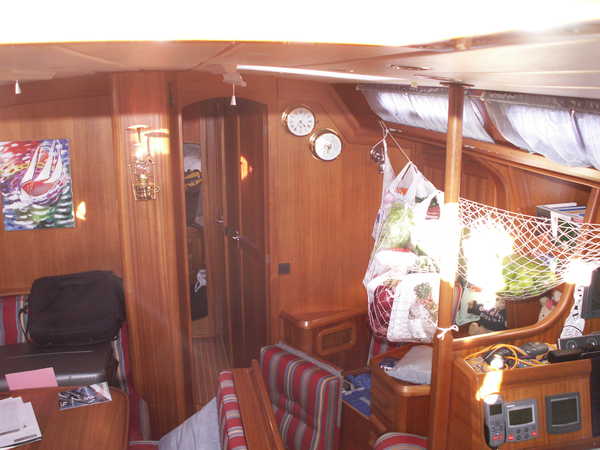 3½ weeks X 3 meals per day X 3 crewmembers of supplies are to be stowed on board, somehow ...
and be found back before expiry date (Ulric and Hans)
--> have a look at our food storagelist!
--> or our draft list of ingredients with draft menuplan!
Hans had done the mammouth task of storing and making a list of all food; so we could also find it back. We had final showers ashore; contemplating that we would not have land under our feet for 20 days. Also being very mindful that if we had forgotten anything now, we would have to cope without. The weather had changed a bit; before departing some darker clouds and even a few rain drops fell; hopefully not a bad omen. The rainbow showed itself over the Anaga mountain showing Santa Cruz off on its beatiful side. I dreamt back to the good moments with the children on Tenerife; enjoying the animal and water pars, rockpools and so on.

Rainbow over the port to Anaga mountain (Hans)
We motored out in darkness and set sails just outside the pier heads. A North Easterly breeze of 15-20 knots powered us down the South Eastern coast of Tenerife with the genoa poled out to leeuward. We were not going to do anything more fancy with spinnakers or gennakers this first night. Earlier days we have quickly buzzed up and down this stretch on the efficient motorway. It was too late and we were too tired for dinner now. We started our watch schedule and for one night were accompanied by the sparkling lights of Tenerife.