Settling in
Ulric ENE5
11/30/2009, South of the Canaries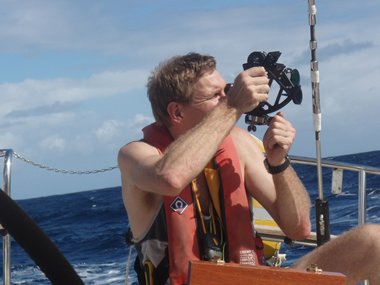 Hans training his astronavigation skills (Ulric)
Daylight is breaking on the first day at sea. I can still see three of the Canary Islands astern and on my starboard side; De El Hierro, La Gomera and Tenerife. We have come far in the sense of getting the show on the road; preparations, acceptance of family, work etc to be away, albeit the actual distance traveled so far is very short.

The positions that you will see on the map; click it on the right hand side sidebar, will be noon positions. You can either view it in the format of Google Earth or as a simple map. We are settling in to life off shore; the watches, cooking, doing things that we enjoy. Hans has spent a lot of time experimenting astro navigation with his sextant. Not many boats would have such a competent back up should President Obama decide to switch off the GPS satellites.

The contrast is big to Santa Cruz, which was a place we also enjoyed. We found the old part of the town; tucked away from Plaza Espana, the pedestrained shopping street and the tourists. We sampled three different restaurants during our stay and a few bars the last night in this genuine neighborhood of town; once again being the only foreign tourists around.

We saw two other boats today; one sailing boat and one fishing boat, something we will not be poiled to see in a few days time. The gennaker was hoisted in the afternoon. The power of this beautiful sail reduced the rolling of the boat. However, we lowered it before darkness as we don't want to tangle it up; especially not this early into the trip. At 8 pm this evening, it was 24 hours since the pierhead of Santa Cruz. We had made a 156.4 nautical miles; respectable, but by no means a record. The wind angle needs to be better, more on the beam, to speed up the boat.