Tropical night
Ulric E4
12/14/2009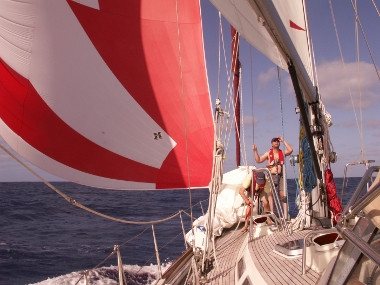 Ulric and Peter working on the foredeck under the hoisted gennaker (Hans)
Note: We currently can not call out and use our main Inmarsat satellite phone system for data transfer. You can still call the boat. We are therefore operating our back up Iridium system which means no pictures and less frequent emails. However nothing to worry about. Everything else is fine.
The tropical night is encompassing me. There are a million stares above my head, as I am standing in the companion way with a glass of red wine left over from the dinner. No more than a T-shirt is necessary to feel comfy. Hans and Peter are off watch. The day has had its challenges. We managed to destroy two pair of glasses today. I knocked Peter's 4,000 meters to the Atlantic bottom as we tried to get the line controlling the gennaker sock disentangled from the "Sea Me" radar enhancer aerial. We managed to sort this out at the end, but at a price. Hans also managed to have his glasses out of commission. In addition, I managed to fall down a hatch as I was scrambling to sort an issue with the gennaker sheet getting caught by the boom.
The weather has been great; fresher than the last few days. We have been running under gennaker again. The sailing has been great. Unfortunately, there is a bit of "deja vue" regarding essential equipment. I inspected the autopilot yesterday. We suspect that only one of the two hydraulic pumps is running and therefore it operates below capacity. In addition the bolts to its working drive had come loose, so there was half a centimeter of moment that shouldn't be there. Hans and I tighten the screws today, so that issue should be fixed. The autopilot has cut out a number of times today under not too challenging conditions. No good!
Second issue relates to our friend; the temperamental Fischer Panda generator. It runs fine for one to two hours, but then starts to run uneven and threatening to shut down. This happens especially when there is a rolling sea or the boat is healing. I have dropped Chris Baker, the UK service manager, an email for advice.
The third issue is quite stupid. We suddenly got a "no prepaid minutes" error message on the Inmarsat satellite phone. This shouldn't happen as it is monthly billed rather than a pay-as-you-go subscription. Imelda is on the case to speak to Satcom Group tomorrow. Currently we rely on the back up Iridium for communication. This is an administrative error that shouldn't happen. Except that everything is fine!
None of these issues are serious, as we have back up solutions. We should have the wisdom to see that and not be stressed out. Nevertheless it can be annoying indeed! However, the autopilot issue meant that we become more in touch with actually steering the boat, as the autopilot needed constant baby sitting.
I was woken up by Hans just before daybreak at 0900 GMT. We still have not changed the ships time; our time is roughly three hours earlier than local time at 45 degrees West. We are more than one week of out the Cape Verde islands now and it is more than two weeks since we left Tenerife. A big cloud with rain had appeared astern and the wind was building. We rolled away the genoa as the wind increased to 25-30 knots. Maybe this was our first squall after all.
It is now noon and a rain bow has appeared to our North. We are back speeding towards Barbados again with poled out genoa in 15-20 knots of wind. Hans made our best breakfast so far this morning with eggs and bacon. It brought me back to taking Quinn, Elliott and Brendan to Gambardella, our favourite old fashioned caff in South East London, or Imelda to Nia; our favourite brunch place in Brighton where we usually have Egg Benedictine and Egg Florentine. This trip is heaven; but I certainly very much miss these great guys and our daily life in London.