Not as smooth as before...
Ulric E4
12/15/2009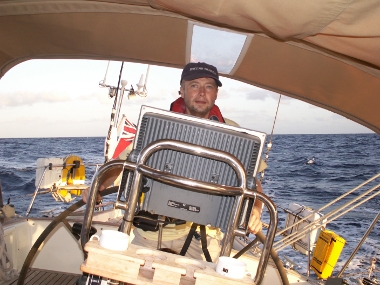 Captain Ulric (Hans)
We certainly had a lot of plain sailing up to now in both senses of the word. However, the weather has become much more unstable; the tropical conditions we have read about. We encountered several rain showers and squalls yesterday and during the night, but none had very much wind; 27 knots tops. In between we have at times struggled to get the boat moving as the wind dropped away or was all over the place.

The first excitement yesterday involved our gennaker ripping apart. It wasn't even in a squall! I don't think it caught anything, it may just have been age. It is our oldest sail and from 1997. The wind increased to about 20 knots and the boat was heading up towards the wind a bit. I was about to relieve the autopilot when I suddenly had the big sail in the water. I called for all hands on deck and we easily retrieved the sail. It probably can be stiched together again as it is only one rip, but we won't have the use of it more before Barbados.

There is still a quite long list on the equipment front unresolved; autopilot, generator. Both works, but not in a reliable way. We have done some further test, but I suspect we need to be in port with specialist knowledge on hand to hopefully finally solve them. In addition we have the problems I wrote about yesterday with the Inmarsat phone. I am almost more annoyed by that, as it seems to be administrative rather than technical!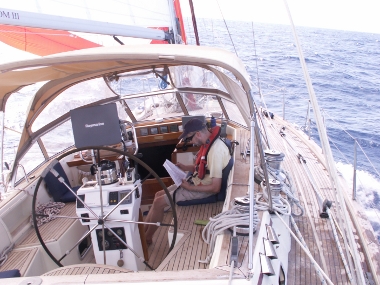 Reading Financial Times, Crispin Latymer, or ... Donald Duck? (Hans)
Queen's Ransom is finally speeding up after having been down to 0 knots of speed in the early part of my watch this morning. Hans was looking drenched after the rain showers when I took over at six. It was the first time I had seen him in more than T-shirt; rain jacket!
We are approaching the end stage of this Atlantic crossing. Everything has its time. The time for the families at home has not always been easy while we were being away. For them it has clearly been much more challenging than for us. We are enormously greatful towards them for their sacrifice and to let us do this adventure.