Choosing our time and being a flying fish in my next life
Ulric ENE4
12/09/2009, 460 nautical miles from the Cape Verdes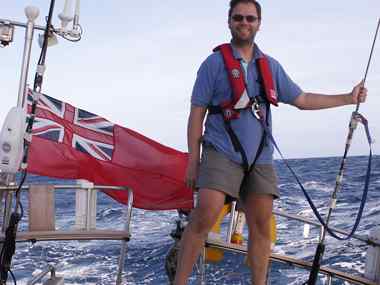 Peter in - above deck obligatory - lifejacket and strung to the backstay with lifeline (Hans)
I am on the early morning watch. It is still dark. It is 0730 ship's time which is still set to GMT. We haven't adjusted the time yet for our Westerly progress. Peter has a penchant for eating dinner in day light, so it suits him well. Currently, we have day light between eight and eight. We had quite some discussions between us before the trip when we were going to change the clocks. We want obviously to maximize day light, have dinners together and have crew available for sail changes at dusk and dawn.

It is quite interesting that on the ocean you can decide the time that suits you best. You don't need to take into account any other time zone of the surroundings. It is like when every village had their own time before the interdependencies of modern living. Hans tells me it was the arrival of railways that forced the issue to have a national time.

The wind has dropped considerably through the night and I am waiting for the first light to wake the crew and set the gennaker. We had the best day sailing of the trip so far yesterday. We sailed with gennaker from 10 until darkness. As a precaution, we don't yet (?) have it hoisted at night as it is must more difficult to sort out a wrap or any other problems in darkness.

Yesterday, we made a new record daily run (noon to noon) . However, at 185.8 nautical miles, it was only 0.6 nautical miles or 1111 meters better than on December 3rd. Very close indeed! Peter served Swedish pea soup and delicacy crackers yesterday. He had bought this at the Christmas fair at the Swedish Church in London a few weeks ago. A dish suitable for the winter commented Hans. The contrast between our 27 degrees in the cabin, 24 degrees at deck and 25 degrees in the water with the conditions we usually experience in Sweden, England and Germany on December 9th is striking indeed.

I have decided that I would like to become a flying fish in my next life. Peter was asking the other day how they could look so synchronized between each other; did they communicate or was it just the force of the wind? Aren't these fantastic creatures? They can both fly and swim with so little effort. How they play jumping up and down in the water and the air looks great fun. They must because of this be good at keeping away from predators that would either be in the water or in the air! On top of that, I have read that they are not very tasty, so not at so much risk of predators anyway. They have to be bit careful though to not land or indeed collide with any boat; a useful skill also in this life.