Post mortem of an Atlantic crossing
Ulric E4
12/22/2009, Between Barbados and Grenada
Carlisle Bay, traditional anchorage for Atlantic cruisers; Queen's Ransom III is left of the catamaran in the center (Hans)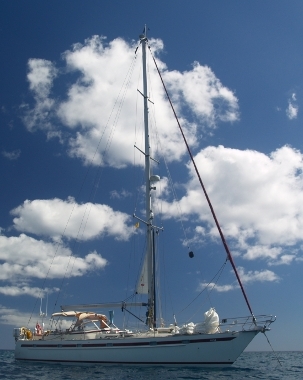 Queen's Ransom III anchored in Carlisle Bay in daytime and at sunset, Bridgetown, Barbados (Hans)
The lights of Barbados have faded behind our stern, but I can still see the sky lit up behind us by the many lights from the island. In front of us the moon has lit up a street from the boat straight to Grenada. We said our good byes to Peter. Hans and I took the dinghy back to the boat, pulled up the anchor and set out to sea mid afternoon. We are doing alright progress with a poled out genoa to windward in light Easterly trade winds of some 12-13 knots. It is still unpleasantly hot with 31.4 degrees in the cabin.
It is quite remarkable that we did not need to top up any supplies; food, fuel water, at Barbados, but were well stocked enough after two weeks at sea to just continue to the next place. I was also very pleased that not any pressing repairs needed to be carried out at Barbados. We have had issues with the following euipment on the transatlantic crossing:
1) Hydrovane wind rudder; bolt broke holding the lower fitting which caused a leak. I think bad instructions by the manufacturer was the cause of the problem. It should have been stated that the rudder should not be fitted, in what was only moderately heavy seas, while not being used. I kept the rudder on as it can be difficult to fit at sea. That was a mistake;
2) Raymarine autopilot; first issues with poor cabling that make the unit to completely fail. Thereafter, only one of the two hydraulic pumps have been operating which make the system underpowered and therefore cuts out at times when steering is demanding;
3) Fischer Panda generator; unreliable and not able to generate designed output at times. We had the fuel pre-filter replaced, but were still encountering issues;
4) Spinnaker boom end fitting; pulleys to release sheet messed up inside the boom;
5) Gennaker; tore under not very challenging conditions. Cause likely to be weakened material due to its age; and
6) Chafe on staysail; probably from ropes when it was not hoisted.
It took us thirteen and half day to cross the Atlantic from Cape Verde to Barbados. Our entire crossing from Tenerife was 19.5 days The "detour" to Cape Verde increased the trip by 2.5 days. So if we had could proceeded straight, we would approximately had done it in 17 days. The estimate in our passage planning software was 18.4 days from Tenerife and 13 days from Cape Verde. The trade winds were remarkably stable blowing approximately 13-23 knots. Initially we had good winds in the upper part of this range from North East while it generally dropped to the bottom of the range and veered East, even South East at times towards the end. We had hardly any squalls and we were lucky with the few we encounter to probably just be on the edges of with winds of no more than 28 knots. The gennaker ripped on day15; this slowed our progress towards the end when we could have used it in the light winds. We sailed conservatively with not keeping the gennaker up at night and only used the spinnaker once.
The careful daily rig and deck check made us spot problems early. I think this contributed to the limited number of breakages. The provisioning, or victualling as it is called at sea, worked perfectly. We ate fresh food throughout the trip and showered from time to time in fresh water. The watch schedule was another success. Most importantly we worked very well together as a crew with only few irritations. Amazing, nobody got bored!