In the tropics
Ulric E5
12/03/2009
It started somewhat alarming at six this morning. I have just had one of those nights with a marvelous eight hour sleep (2200-0600), thanks to Hans and Peter's excellent watch schedule, however Peter had got something in his eye; not on watch but while being asleep! It seemed to have cleared though with the help of eye wash from Seamedic; found by Hans in the extensive medical chest. Next, a wave was rolling over the boat so both Peter's cabin and the main cabin (both with open hatches) got a dousing of seawater.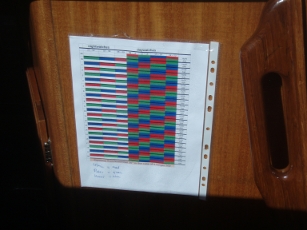 Watch schedule Ulric red, Hans blue, Peter green (HoW: Head of Watch; AW: Assistant Watch/Ulric and Hans)
--> have a look at our watch schedule!
Hans tells me that we have just had the only night of this crossing with a full moon. He is more interested in the new moon as the absence of moon light makes it much easier to see the stars. To me, a full moon is magical; daylight at night! I share the fascination of the moon with my five year old Brendan. Peter was a bit surprised to see me read Emma Richard's book "Around Alone" yesterday. He commented that here you are crossing the Atlantic, but still you need to read about sailing around the world alone!
We are making very good progress in stable conditions with no sail changes necessary for days. The last hour we averaged eight knots through the water and faster over ground because of the following current. We had a record of 11.3 knots of boat speed going down a wave yesterday. The rolling of the boat has increased by the day; got a shower in red Rioja Reserva from 2000 at dinner last night. A bit annoying as I just had my only freshwater shower so far on the trip and was wearing a shirt as we finished the last fresh meat from Tenerife.
Yesterday, we passed 22.5 degrees North and 22.5 degrees West; nice symmetry. Actually, we entered the tropics (tropic of Cancer at 23 degrees 36 minutes North) already at 10 am yesterday. Peter and I had debated for quite some time where is could be, but of course Hans knew it all along and had duly even entered it in the log. We had a second encounter with a flying fish during the night. Unfortunately, I only found him (or possibly her) this morning dead. Sad, but we took a photo of him before the sea burial.
Hans announced, as he was handing over the watch to me, that he thought we had entered the trade wind belt; air and water temperatures have increased and the winds are coming more from the East than the North. We are probably crossing some shipping lanes as we saw two ships last evening both on their way to Rotterdam (one only 1 mile away), one during the night and one this morning. The last one, Gisela Oldendorf was bound for Manaus, Brazil, and has been following us for hours; as she is roughly on the same course as we are and not very fast. I am looking forward to another day on the high seas! I love it!
By noon today, we had done 185.2 nautical miles since noon yesterday or on average 7.72 knots!