Grashopper stowaway
Ulric ENE5
12/08/2009, 740 nautical miles West of Dakar, Senegal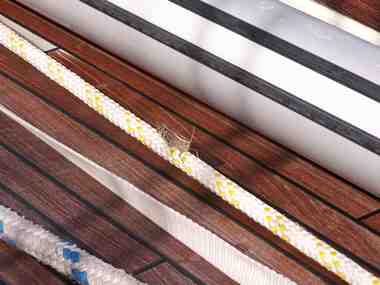 Charlie the Cricket, later officially renamed as Benjamin, accompanied us for some days ... (Hans)
Dakar, Senegal, 740 nautical miles to our East is the closest main land to us. We continue to fast power reach on a straight Westerly course. Conditions continue to be remarkably stable! The wind has stayed North Easterly rather than the more Easterly that we had expected, but that doesn't matter much. Regardless how you look upon it, we are making fast progress and are enjoying optimal conditions with 20 knots of wind or so. We have been a bit puzzled that the higher speed over ground than speed through the water that we enjoyed since leaving Tenerife seems to have disappeared. There ought to be a Westerly current helping us along: not the Equatorial Counter Current flowing in the wrong direction. That should hopefully be further South. We changed sail configuration this morning as our stay sail only disturbs the wind flow to the genoa during broad reaching.

Our sea routine very much continues; eating well, getting good rests, me being a bit too busy. I spent some time today reading about and practicing sail trimming. There is a bit more life; we have seen a few "white" birds today; unfortunately I cannot name them more specifically. We have a grasshopper stowaway; planning a life in the New World on the other side of the Atlantic.

It is a dark night with lots of stars, but no moon was visible when I started my watch. Now it is one thirty in the morning and the moon is lightning up the boat and the sea; my universe this night. In Sweden we have a word for a narrow area lit up by the moon:"mångata" or "moon street" in English. This night it starts beneath the moon and ends at the stern of our boat.