Quinn's Life Burial & Goodbye Hans!
Imelda
12/23/2009, St Georges, Grenada
Harbour of St. George's, Grenada (Hans)
Wednesday 23 December 2009

Our boys LOVE Hans!! Quinn woke him up at 4am this morning, holding a cup of coffee and a chocolate bar, saying: "Now it is time to play!" Hans kindly 'joined in the fun'. When Ulric woke up at 4.30 am, he found all four in the cockpit, in the middle of a tutorial about Rubick's Cube. Mum was soundly asleep in the Tropicana Hotel 200 yards away...

left: Family Almqvist: Elliott, Quinn, Brendan, Imelda, and Ulric, under the flags of the Caribbean Islands (Imelda?)
right: Family Almqvist: Quinn and Elliott spying from the foredeck hatch (Imelda ?)

Once daylight came, the first thing Quinn asked for was a Life Burial on the beach! And so it was... Ulric, Hans, Elliott and Brendan buried him in the white sand on the beach and found him a straw to breathe through, so they could cover even his face. This remind of a procedure my great shaman teacher Simon Buxton describes in his book "The Shamanic Way of the Bee". If I had known that shamanic life burials were on the menu, I would have joined the dinghy trip to the beach.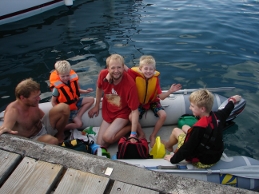 left: Hans, Brendan, Ulric, Elliott, and Quinn leaving for their morning swim (Imelda)
right: Hans carrying little Brendan (Imelda)

The beach in the morning sun before our wake-up swim at Grenada (Hans)
We arranged a taxi to Concorde Falls, a sacred place of outstanding beauty. We soon discovered that people were jumping off the rocks, as well as bathing in the rock pool by the waterfall. Within seconds Quinn had scrambled out of his clothes, ready for the jump from an even higher rock face, copying Hans. My heart stopped but Quin came down safely and was soon up there again for the next jump down the waterfall.
left: Hans swimming in the pool underneath the Concorde Falls (Imelda)
right: Quinn copies Hans jumping into the Concorde Falls from the cliff (Imelda)

Hans is flying to Barbados tomorrow morning to go scuba diving. The boys are devastated. We all enjoyed his company so much... not to mention the raisin pancakes he made for breakfast... He is going to send Quinn the recipe...
By Imelda